There is an important question that the majority of our guests bring up while they stay with us.
"Is Christmas celebrated in Gambia?"
Throughout the history of Gambia, Islam has had a major influence on the country. So much so that in December 2015, Gambia's president Yahya Jammeh declared this small West African country of approx. 2 million people an Islamic state.
Despite being a majority-Muslim country, Gambia is and always has been a secular state. The ethnic profile of the country is very rich.
According to a 2019 Report on International Religious Freedom, the Christian community makes ~4.2% of the total population.
Now coming to our question about Christmas in Gambia… Yes, Christmas is one of the major festivals in the country and people of all colors look forward to Christmas and New Year's week.
The best part of Christmas in Gambia, or in any country in West Africa for that matter, is that they are rich in local Christmas traditions. Not something that people coming from the west are accustomed to, but at the end of it most of them agree that The Gambian Christmas however was overall a different experience. 
Most of the guests that we host in our Lodge, after experiencing this event here are surprised by the simplicity and uniqueness of it. More so by the nature of it being, "Commercial free".
So what is it exactly like? Well, in all honesty, you have to experience it to feel it… but still through this post I am going to give you a top level view of what goes around.
History of Christmas in Gambia (read Africa)
We all know the worldwide meaning of Christmas, on which people commemorate the birth of Christ in Bethlehem. Although historians are debating about the actual date of his birth, the overall accepted date is December 25th.
African history has an additional layer to the worldwide known account of Christmas. The earliest signs of Christian belief were found in Egypt in the 1st century AD. In many African countries, it symbolizes the​ birth of African God Ra (Osiris). So, when African people decorate trees during this period, they are sending regards to ancient times when Ra's birthday was celebrated. It is also considered the celebration of the winter solstice in some countries.
Christmas in The Gambia
Julie's Experience
Julie was in Gambia for the first time. There is something about 'African Culture' that fascinates me, she says.
Why did she choose Gambia? Just like that, she answers. She was searching for a winter-sun destination and in her research Gambia popped up. Next thing we know is she was on her way to the smiling coast of Africa (aka The Gambia, in case you are unaware).
And well it was that time of the year. Julie arrived on the 24th of December.
Here we are just trying to give words to everything she experienced.
People here seem to always be happy but this day, it was different. The shops, the streets, not decorated in a typical sense but had a festive vibe. It was clearly visible that these "vibes" have been there for at least a week now and today it was on its peak.
The first thing that I found unique was the Xmas tree. And the unique thing about it was that it was not even a tree.
Confused? Have a look for yourself…
Any direction I saw, I could spot at least one person dressed in Father Christmas outfit. 
With so many kids running on the streets, I entered a nearby café. I don't remember the name but the place reminded me of home (UK) but also had its own individual character. That was definitely the place. They had books, wonderful coffees and teas and cakes galore, all homemade. 
Just then the barista comes up to take my order and he is wearing the typical Christmas cap. And that is when I realized that the complete staff was wearing that cap as they moved around taking and serving orders.
Streets were starting to get crowded now. It was some kind of a parade. 
Males (mostly young boys) dressed up in white woods, leaves and ochre colored tree fibres and dancing with a stick and machete in their hand.
I asked around the locals and they told me that it was called 'Kankurang mask parade'. It was kind of a local Christmas tradition.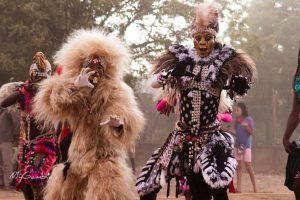 A typical Xmas Day in Gambia
The celebration for Christmas extends beyond faith and community to include the whole town or village in the holiday spirit. It is as much a social event as it is a religious one, Christmas across the region brings friends and family together.
But apart from everything, Church services are the most important Christmas tradition. The Yuletide season is all about honoring the birth of Jesus and you'll find church services on both Christmas Eve and Christmas Day. You'll also find nativity scenes, nativity plays, dance performances, communion tables and caroling. 
A joyous parade, called Carnival of Fanal Parades, is held after the Christmas Eve church service. 
The locals dance through the towns with fanals – large lanterns made from bamboo and paper in the shape of houses or boats. The fanals are lit with candles inside and carried from house to house to collect donations. The towns also celebrate with colourful masquerade parties.
In the nearby Gambia, masquerades are also developing into a Christmas tradition. "In The Gambia, Christmas celebration goes beyond a religious issue, as non-Christians, even Muslims, join us to celebrate the season in grand style. It is a moment of happiness when we roam about in the streets with a masquerader locally called 'Agugu', dancing as well as asking people to donate to us," Anna Gomez told afrol News.
"And all the monies we gathered are normally used to finance a grand party on New Year's Day," she reveals. But Christmas in The Gambia is also serious business. "Ahead of Christmas, we do a lot of preparations such as shopping for all types of things we might need for the period. We also exchange goodwill messages to our neighbors, spread out charities to the poor and needy and even visit people," Ms. Gomez says.
Dishes
Gambians love food. That's in general, but Mothers take out every skill and every secret recipe they have in their pocket to serve their families the best thing, during this time of the year.
Christmas in terms of Dishes starts usually around 8th – 10th December with the Feast of The Immaculate Conception. The feast is celebrated mainly in Roman Catholic churches and it is to acknowledge the conception of Mary, mother of Jesus. 
For Christians in The Gambia, this is an important pilgrimage day, when thousands converge on the shrine at Kunkujang (near Brikama), for Mass.
Bev Perkins, a chef and a qualified nutritionist, visited The Gambia during Christmas time because "she desperately needed sun in the winter break". 
In her own words, "Well, whilst lying peacefully on the beach in glorious temperatures, I heard a speedboat in the distance and looked up to see something moving that was a glorious red colour and what looked like an inflatable reindeer bringing up the rear, and it was! Complete with loudspeaker and 'ho-ho-ho', he sped past, breaking the peaceful silence of the few tourists that were on the beach. What a spectacle I shall never forget."
Further, she adds, "Gambian food is like looking at a "boring" chocolate pudding, which when cut into, oozes flavor and surprises, much more than its exterior gives away. Of course, rice is predominant and one of the staple dishes, more or less served with everything. Sweet potatoes, cassava, carrots and butternut squash make up the contingent vegetable starches on Gambian menus. Tomatoes, chillies, all types of onions and aubergines feature, most of which are made into a tasty stew with lots of spice. In fact, the word 'stew' appears with great frequency on restaurant menu boards."
Every hotel, bar, restaurant, and beach shack has something special to offer on Christmas. In the majority of the hotels and resorts (including ours 🙂 ), the staff and chefs have a week-long preparation for the Dinners and Buffet that guests enjoy on Christmas Eve.
Best Churches for Christians near Ngala Lodge in Gambia
ROMAN CATHOLIC CATHEDRAL
ST. ANTHONY'S CATHOLIC CHURCH
ST KIZITO'S CATHOLIC CHURCH
ST THERESE'S CATHOLIC CHURCH
TRINITY METHODIST CHURCH
TRINITY LUTHERAN CHURCH
EndNote
With all said, there is no denying that Christmas in The Gambia is not as huge a celebration as it is in most western countries.
We have our own ways of celebrating Christmas and giving presents and putting up heavy decorations aren't part of the culture we have here.