Only six hours from Europe and bathed in year-round Sun, The Gambia is a destination for a fabulous holiday.
You are either in Gambia or you are planning to visit The Gambia, why else would someone search for 'Things to do in Gambia'.
A quick disclaimer – The things mentioned here are not in any particular order.
1. Kunta Kinteh Island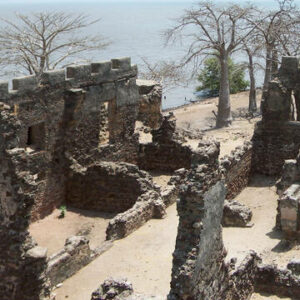 A small island situated in the Gambia River and opens out into the Atlantic Ocean. According to UNESCO, "it's location in the middle of the river makes it a strategic place to control the waterway". 
Kunta Kinteh Island, also known as James Island, has its own historical significance. The prisons, caves, British administrative buildings and skeletons of the baobab tree… everything reminds of the inhuman treatment which was brought upon the african people as a result of colonialism. 
Apparently, this was the last place (in Africa), african slaves were imprisoned before being shipped off.
How to go to Kunta Kinteh Island from Ngala Lodge?
2. Bijilo Forest Park
A forest walk right beside the ocean and feeding monkeys (the park prohibits feeding them and sells peanuts to feed them, irony!) while they most probably sit on your shoulders … The above statement pretty much sums up what you can expect from the Bijilo Forest Park.
There are anyways loads of monkeys all across Gambia, and you will get to see them even if you do not visit this park. But the park is a good place to spot monkeys in their natural habitat. Apart from the monkeys, the Bijilo Forest Park has a fauna that extends across invertebrates, reptiles and mammals.
It has a population of the nocturnal Senegal bushbaby. Other mammal species which can be seen include the Gambian sun squirrel, African civet, genets, mongooses, brush-tailed porcupine among other smaller, less noticeable species. 
Bijilo Forest Park is home to a diverse reptilian fauna that ranges from a variety of lizards (monitor, rainbow and agama lizards) to colourful insects and invertebrates including dragonflies, orb-weaver, fire ants, butterflies.
Ignore the 'guides' who will want you to hire them to show monkeys.
How to go to Bijilo Forest Park from Ngala Lodge?
3. River Gambia National Park
The Gambia National Park is an opportunity to experience the Gambian wildlife in its purest form. People who have been a part of it, say that they would come again only for this particular experience even if Gambia has nothing else to offer.
The highlight in this park is the Chimpanzee Rehabilitation Project. A project where illegally confiscated animals are re-introduced in their habitat.
But as mentioned, this is not just about Chimpanzees. You get to live in the wild where you get to see the mammals and reptiles (ranging from Hippopotamuses to Nile crocodiles) in their natural habitat.
Just in case you are worried, it is completely safe.
4. Katchikally Crocodile Park 
As the name suggests, this park has crocodiles and they roam freely.
As a tourist you can do much more than just see them, here is a list of things you can do:
Take images with them

Walk around them

Pet them
Not a very extensive list of to-do here, but what is more adventurous, fun and scary (all at the same time) than walking in a park full of crocodiles.
5. Bakau Fish Market
To be honest, the Bakau Fish Market is not something extraordinary. It's just a bunch of people trying to earn their living, and yet this spot has managed to find its place amongst all other Gambia attractions.
Hundreds of boats go into the sea every day and by the evening, they arrive with the fishes. The market is nothing but people selling and smoking seafood.
"An overwhelming experience which stunned me, a massive operation in unbelievable conditions. I cannot put into words how lucky we are compared to these fantastic people who have nothing but are still smiling and welcoming" said one of the visitors.
6. Makasutu Culture Forest
Located in Kembujeh village, the literal meaning of Makasutu means 'the holy' and local folklore belonging, as old as the 12th century, says that a dragon lives in the forest and protects the woods.
A typical day here involves going on a boat ride wandering in the forest and enjoying the trails. More likely than not, you are going to find a palm tapper and get a taste of the palm wine. Once the guide is done showing you this amazing forest and its animals, you have your lunch by the river.
The tour in this forest is managed and organised by the staff here and the guides are usually very knowledgeable about the local flora, fauna and customs. Visiting the forest is one of the most fun and offbeat things to do in Gambia.
FYI – Makasutu Culture Forest has won many international recognition, awards and prizes.
7. Stone Circles of Senegambia
While some assert that the stones were set in place at the beginning of time by the gods, others regard them as burial markers left by an ancient race of kings and/or giants, and others still believe they are the petrified remains of disgraced people.
Another UNESCO World Heritage Site, that comes out of The Gambia. The Stone Circles of Senegambia are the largest group of megalithic complexes yet recorded in any region of the world. There are 1,053 Stone circles and a total of 28,931 monoliths.
Of the 1000 stone circles, 93 of them have been inscribed on UNESCO's World Heritage List. These include the Sine Ngayène complex in Senegal, as well as the Wanar, Wassu and Kerbatch complexes in Gambia.
Although it is somewhat similar to the UK's Stonehenge, these are considered as an intriguing African relict and are considered a good tourist attraction.
8. Sightseeing at Banjul's Arch 22
The 114 feet high gateway leads to the capital city of The Gambia and has a small  textile museum that walks you through the cultural history of the country. The building itself commemorates the military rebellion that happened in 1994. 
Having a museum is just not it. This is the highest building accessible to the public in the city and is famous for the panoramic city view, from the top floor terrace,extends to the sea port of Banjul and the mangrove forests. Overall consider yourself treating to a view that makes you realize what it feels like being on an island.
9. Relaxing on a beach
While many holiday makers will flock to the Canary Islands or the Caribbean for their beach break fill, The Gambia offers unprecedented access to the sun, sand and sea; often just steps away from your hotel.
Many of the beaches are secluded and unspoilt, particularly the beach at the front of White Horse Residence, the perfect spot to witness the sunset.
There are so many beaches in Gambia that it is very unlikely that you will find a crowded beach.
People staying in our Ngala Lodge can just step outside and find a beach overlooking the vast Atlantic.
10.
The Gambia's fantastic birdwatching
The Gambia is a paradise for the birdwatchers, no matter if you are a beginner or a professional. Birdwatching here is the sole reason for a bunch of visitors who arrive here.
With over ~600 known species of African bird in The Gambia, it implies that almost anywhere here is a good spot to watch birds if you have never done so before. 
You can go birding in Gambia throughout the year, but your experience will vary according to the season. The dry season of November to April is a great time to see migratory birds, which begin to arrive from late October or early November, not only from Europe but also from elsewhere in Africa. 
January to March is the month of raptors. Due to the intense heat and the dryness, it is easier to spot birds near the water sources. 
The rainy season of May to October is prime breeding territory and you'll see bright feathers and long tails as birds display their summer plumage. The downside of this season is that it can be sticky and humid, and some of the more remote bird watching sites are less accessible.
11. Missing Sports?
There are people who love sports more than anything. If you are one of those, and all the strolling across the city hasn't tired you down you can try your hand in Golf. 
Fajara Golf Club is the oldest golf club in The Gambia. Established in 1937, it is a perfect spot to play the game in the quiet beachside view. 
The iconic club features a challenging 18-hole, par 69 course set among green trees and flora where a range of exotic bird species can be spotted. 
If golf isn't your thing, not to worry as the Fajara Golf Club is also well equipped with a badminton hall, tennis and squash courts, a swimming pool and places to play table tennis and snooker.